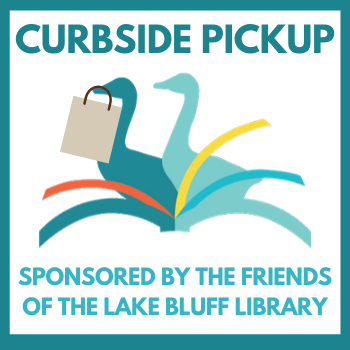 The Lake Bluff Public Library is pleased to offer Curbside Pickup, sponsored by the Friends of the Lake Bluff Library. This page is your homepage for all things curbside—read on to find out how this service works, how to request your materials, and more.
If you have received an email saying that items from your order have been pulled, please use the button below to schedule a pickup time. In order to guarantee that your items are ready for pickup, please DO NOT schedule an appointment until after we've notified you that your items have been pulled.
Please note that Curbside Pickup has changed as of April 5. Read about the changes in the Placing a Curbside Pickup Order and Picking Up Your Curbside Pickup Order sections below.
(If the Schedule a Pickup button is not working, try the direct link to our Curbside Pickup scheduler or call the Library).
Your Pre-Curbside Checklist

Before getting started with Curbside Pickup, we recommend completing the following steps:

Learn how use your online account. You'll need to know how to log in to your online account, search the catalog, and place holds in order to use Curbside Pickup. If you want a refresher on how your account works, click on the Using Your Online Account section on this page to access some video tutorials prepared by one of our librarians.
Consider switching to email notifications. We will be working with a limited staff, so the more patrons who are on email notifications, the more time we can dedicate to preparing your orders.
Put items on hold. Browse our catalog and find some titles you'd like to read.
Stay up to date. Follow us on Facebook and Instagram, or sign up for our eNewsletter to make sure you stay current with all the latest service updates.

Placing a Curbside Pickup Order

Log in to your online account and put some items on hold.
If you are signed up for email notifications, wait until you receive an email saying that your hold has arrived.
Follow the link in your hold notification email to our Curbside Pickup page and use the Schedule a Pickup button at the top of the page to schedule a curbside pickup appointment. Please do not schedule an appointment until after you receive a notice that we have pulled your items.
Choose an available pickup window. Orders are available for pickup at any time from noon to closing.

If other cardholders in your household have materials that have been pulled, you can add them to your pickup time—you do not need to schedule separate pickup times for different cards.

Fill out your information on the booking form. Book your time slot. You'll receive an automatic confirmation email with all the information for your appointment, as well as an email reminder 2 hours prior to your pickup time.

Same Day Appointments

We are able to accommodate requests for same day Curbside Pickup appointments by phone if we have available appointment slots. Please call the Library at 847-234-2540 and ask a staff member about booking a same day appointment.

Picking Up Your Curbside Pickup Order

Arrive at the Library any time between noon and closing.
Curbside Pickup is located in the lobby of the Library building. Orders will placed on a cart next to the interior doors.
For your safety and the safety of others, please note the following:
Once you have collected your materials, please return to your vehicle and do not linger at the pickup point.
You can read more about our safety protocols in the Keeping the Library Safe section of this page, but you may want to wait an additional 24 hours after pickup before using your items.

Other Changes to Expect

Please visit our COVID Resources page for a full list of current Library services.
Keeping the Library Safe

The health and safety of Library staff and patrons is our priority. The following safety measures are in effect to keep staff and patrons safe:

PPE required for staff. Staff will be wearing personal protective equipment (PPE) when interacting with the public.
Adjusted scheduling for staff. Scheduling has been adjusted to minimize contact between staff members; many staff will continue to work remotely.

Using Your Online Account & Other Tutorials

Library Account and Holds Tutorial
Join Katie Horner, our Head of Circulation and Reference, and learn how to log in to your online account, search the catalog, and place holds in this video tutorial.

Booking a Curbside Pickup Appointment
Katie shows you how to book an appointment for curbside pickup on the Library website.

FAQs

Q: Are the exterior book drops still closed?

A: We are pleased to announce that the exterior book drops have officially reopened! Items may be returned 24/7.

Q: Can I request a same day pickup?

A: If we have appointment slots available, we can accommodate requests for same day pickup by phone. Please call the Library at 847-234-2540 and ask about booking a same day curbside pickup appointment.

Q: Do I need to wear a mask to pickup my Curbside Pickup order?
A: Yes. Masks are required for all individuals ages 2 and up. Please see our announcement about our mask practices for more information.

Q: Wait, you're doing autorenewal now? How does that work?

A: That announcement got a little lost in the shuffle, but yes! Autorenewal is just like it sounds—the system will automatically renew any eligible items for you.

Q: Can I place an Interlibrary Loan request?

A: Yes! Interlibrary Loan is available.

Q:  How far in advance can I schedule a pickup?

A:  To start, you can book a pickup up to two weeks in advance. We may adjust this time frame depending on demand.

Q: I missed my pickup window! What should I do?

A: Curbside orders will be available for pickup from noon to closing, so as long as you're picking up your item within that time frame, you're good. If you missed your pickup day entirely, contact the reference desk and let's talk.

Q: If I got a temporary card earlier during the shelter-in-place order, can I use Curbside Pickup? Do I need to do anything to complete the application process?

A: If you have a temporary card, you can use Curbside Pickup. Eventually, you will need to complete the application process, but for now, you don't need to do anything else.

Q:  I have a card from another library—can I schedule a curbside pickup appointment?

A: Yes! Curbside Pickup is open for reciprocal borrowers.

Q: Are you accepting book donations?

A: For health and safety reasons, as well as limits on our space, we are currently not accepting donations of books. Monetary donations are always appreciated. Learn more about how to support the Library on our donations page.

Q: I have other questions about your COVID response and pandemic service plans.
A: We have a COVID FAQ page, as well as a COVID Resource page that may answer your questions.