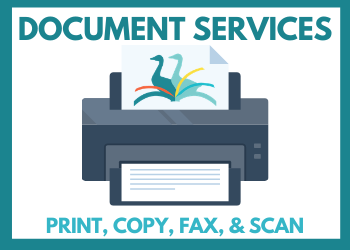 The Library is offering remote document services.
Submitting Your Request
Printing
Print requests can be submitted electronically at any time through our remote printing form.
Copying, Faxing, and Scanning
Copying, faxing, and scanning may be done any time the building is open.
Document Pickup
Wait for a staff member to contact you
Turnaround time for requests is typically 1-2 business days. We appreciate your patience as we work quickly to fulfill your request. A staff member will contact you with information on payment and scheduling a time to pick up your documents.
Payment
We have made some adjustments to our regular copying, printing, and faxing fees.
Fees must be paid in full before pickup can be scheduled.
Fees can be paid by cash, check, or credit card.
Our fee schedule for copying/printing is as follows:

$0.10/page for black and white
$0.30/page for color
Double sided copies are charged per side.

Standard fees for faxing are still in effect ($1/page for the first 5 pages; $0.25/page for pages 6+. We do not charge for the cover sheet).
Questions?
If you have questions about this service or if you are having difficulty submitting your request, please call the Library at 847-234-2540 or email our reference desk and we'll be happy to help you out.