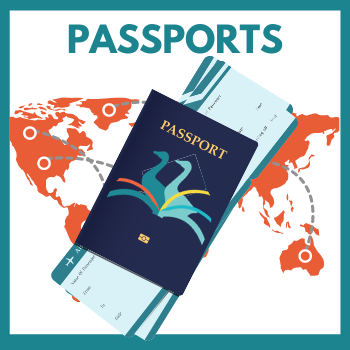 The Library is a designated Passport Acceptance Facility. Learn about our passport services below.
What Do I Need to Apply?
General Requirements
All applicants must appear in person at the Library in order to apply for a passport.
Minor applicants under the age of 16 must have both parents present OR present appropriate documentation demonstrating parental permission from the non-appearing parents.
Applications - Print copies of Form DS-11 are available at the Library. You can also print out a copy from the US Department of State's website and fill it out prior to your appointment. If you print out this form at home, please be sure to print a single-sided copy and do not sign the application until you are instructed to do so by an agent.
Identification - Applicants and parents of applicants under age 16 must have a valid photo ID.
Evidence of US citizenship - Applicants must present an original or certified copy of evidence of US Citizenship.
Proof of Parental Relationship (applicants under 16): All minor applicants under 16 must submit documentation that lists the parent(s) or legal guardian(s), such as a birth certificate or other legal paperwork. This documentation is required even if the applicant has already been issued a passport. Visit the Department of State's website for a list of eligible documents.
Passport Photo - The Library does not provide Passport Photo Services, but many businesses in the area do, such as CVS.
Fees - You will need to bring two valid forms of payment—a check or certified money order made payable to the Department of State for your application fee and cash or a check made payable to the Lake Bluff Library for the application execution fee. Visit the Department of State's website for a current schedule of fees.
Questions? Visit the US Department of State's website for more detailed information about passport applications, including acceptable documents, or contact the Library.
Passport Renewals
If you are renewing your passport, you may want to check if you are eligible to use Form DS-82, which allows you to renew by mail and does not require a trip to a Passport Acceptance Facility. You can find a copy of DS-82 on the US Department of State's website. Review the checklist on the first page and see if you are eligible. If you are eligible, that's great! Follow the instructions and mail in your application. You do not need to come to the Library to submit your application.
Appointments
Appointment Availability
Use the scheduler below to book an appointment. Our online booking system allows you to book appointments up to three weeks in advance; same day appointments may be available, but require three hour's notice to book online. If you require an appointment outside of that time frame, please call the Library and we'll see if we are able to accommodate you.
Walk-Ins
Passports are available by appointment only. We are not able to accommodate walk-in appointments at this time.
Know Before You Go
Want to ensure your appointment goes smoothly? In addition to reviewing the requirements from the US Department of State, take a look at the checklist below and avoid the most common mistakes before you book your appointment:
Bring your checkbook (or a money order). The Department of State does not accept credit or debit payments.
Get a passport photo. We do not offer passport photo services, but many businesses in the area do, such as CVS. We strongly recommend that you do not take the photo yourself.
Kids under 16: bring both parents (or the appropriate paperwork). Applicants under the age of 16 need permission from both parents to apply for a passport. If both parents can't be present, they'll need appropriate documentation from the non-appearing parent.
If you're renewing, find out if you're eligible to renew by mail. If your passport is up for renewal, you may not have to apply in person. Review the checklist from the US Department of State and find out if you're eligible to renew by mail.
Questions? Call us before your appointment. Not sure if you've got the right documents? Questions about the process? Call us at 847-234-2540 and we'll be glad to help.
Book Your Appointment
Other Passport Acceptance Facilities
Can't find an appointment with us that fits your schedule? Check out these other local passport acceptance facilities for more options. Facilities with passport acceptance availability on weekends are marked.